With over 1400 years of history since its original construction, Zenkoji is a true temple of the common people, welcoming all visitors from throughout the nation and abroad regardless of religious denomination. Let's begin our pilgrimage to Zenkoji Temple with a stroll along Omotesando.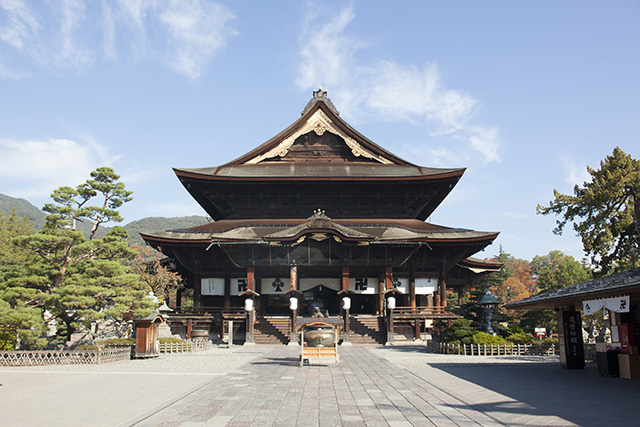 @Zenkoji
The distance from Nagano Station to Zenkoji Temple is according to the teachings of Amitabha Tathagata
When Nagano Station was opened in Meiji year 21 (1888), in reference to the 18 vows of Amitabha Tathagata, the station building was constructed at its present location 18 cho (about 2 km) from Zenkoji Hondo (main temple hall). At the Nagano Shinkansen ticket gate, there is a sign indicating "Zenkoji" and a stone engraved with "18 cho". As you follow Omotesando road to Zenkoji Temple, stone guideposts on both sides of the street mark each cho (about 109 m).
Nyozehime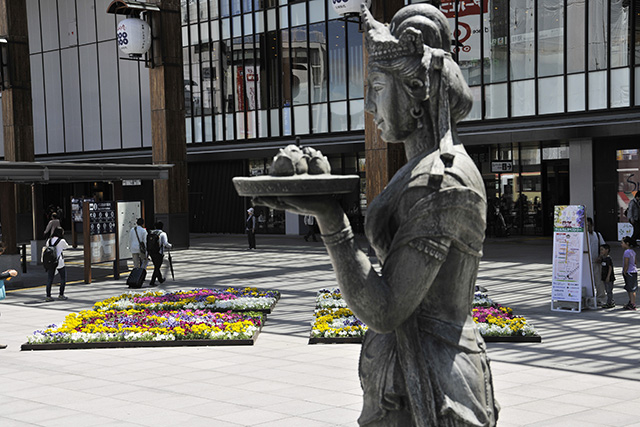 Large eaves and a colonnade made with local cedar greet visitors at Nagano Station Zenkoji exit.In the square before Nagano Station is a statue of Nyozehime, who is affiliated with the origin of Zenkoji Temple. She faces the direction of Zenkoji.
The temple which revived Etoki-style illustrated teachings
Saikoji Temple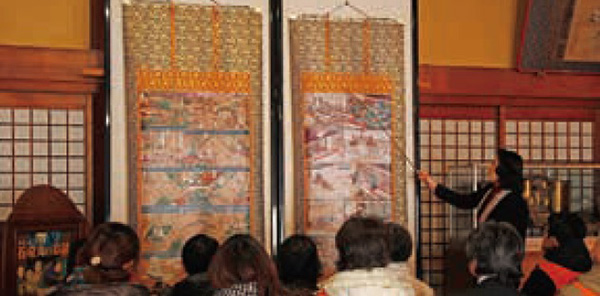 Experience etoki-style illustrated teachings at a temple with ties to the legend of Karukaya. One of the Seven Gods of Good Fortune, Jurojin (god of longevity), is enshrined within the temple grounds.
Stroll down Zenkoji Omotesando and receive a blessing!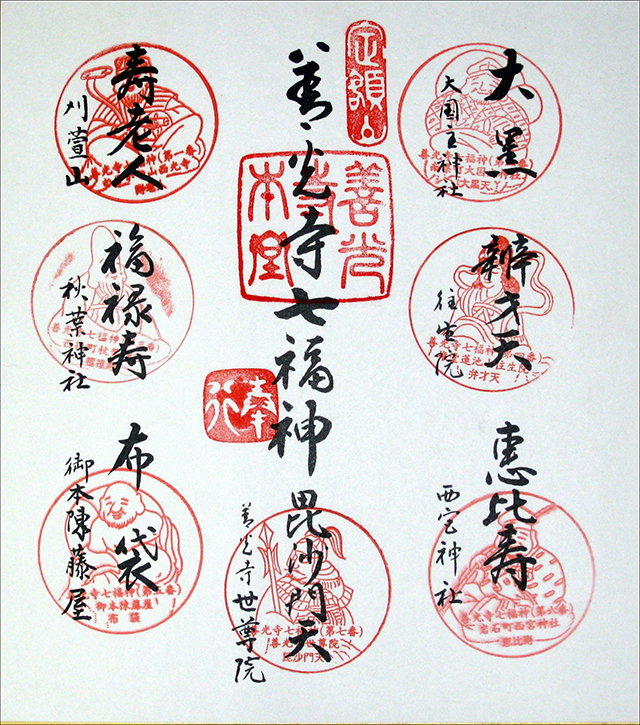 Take a stroll around the Zenkoji Omotesando area and perform a pilgrimage to the enshrined Seven Gods of Good Fortune. Here you may receive goshuin (temple seals, 100 yen each) on a special paperboard (800 yen). For an even greater blessing, finish with the Zenkoji Temple goshuin (200 yen).
A spring breeze -- led to Zenkoji by a bull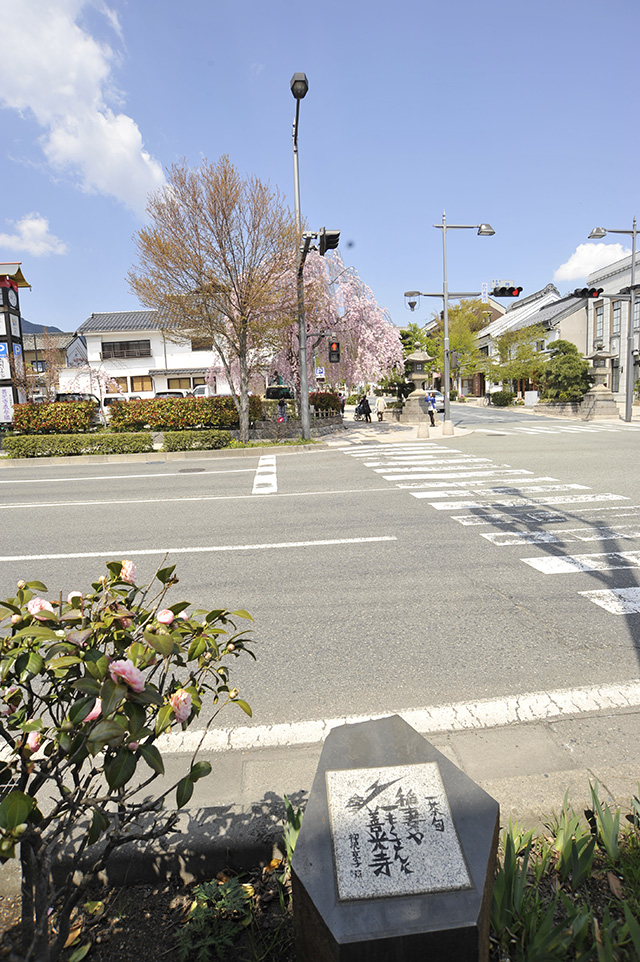 Issa Kobayashi was born in the village of Kashiwabara, Shinshu (now the town of Shinano, Nagano). From time to time, this poet visited Zenkoji Temple, and it's said that over 50 of his verses refer to the Monzen-machi area surrounding Zenkoji Temple. Here and there along Omotesando's roadsides, you will find stone slabs engraved with Issa's poetry.
Appreciate city center art
Nagano City has an "Outdoor Sculpture Prize" program. Prize-winning works of art are installed in public locations such as plazas or parks. You'll find several such displays around Omotesando.
A wonderful encounter could be just around the corner
This nostalgic shopping arcade will whisk you back to Japan's Showa era. Sheltered from rain and snow, browse through time-honored local favorite stores. The street is also home to Japan's oldest wooden movie theater.
A sensation unlike any other -- the true appeal of Monzen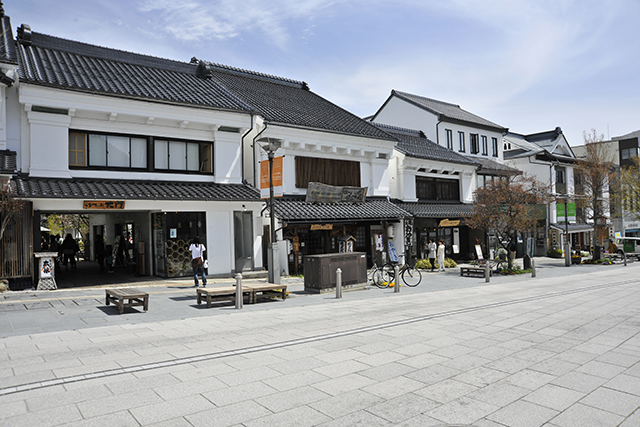 The modern townscape of Monzen-machi is characterized by complex facilities. Rows of renovated storehouses offer a variety of cafes and restaurants, perfect for a leisurely visit.
The area around Zenkoji Temple contains a number of historical buildings that have been renovated into stores. Explore a while, and you're sure to find a few new favorites.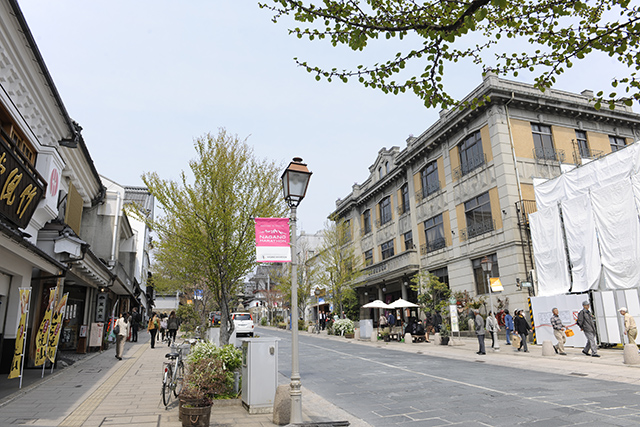 Just before Zenkoji Temple lies Daimon-cho, a neighborhood lined with buildings that create an old-fashioned atmosphere. Amidst this historical backdrop, you will find some new classics. For example, "Yawataya Isogoro" is a manufacturer of shichimi togarashi (Japanese seven-spice powder) and a favorite stop for souvenirs. "The Fujita Gohonjin" is a restaurant and wedding hall that was once a residence for government officials of the Kaga domain, one of the largest domains in Edo period.
Enjoy an authentic temple lodging experience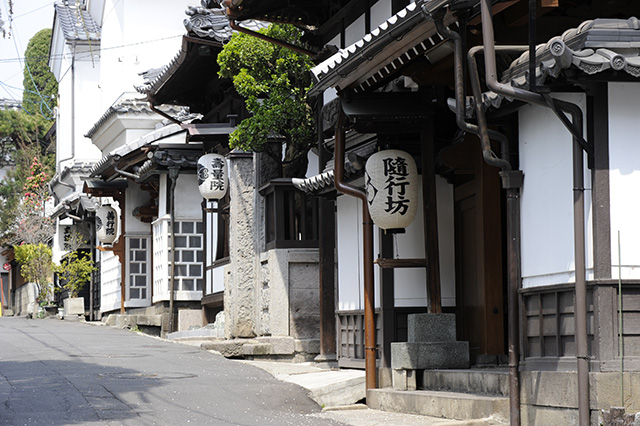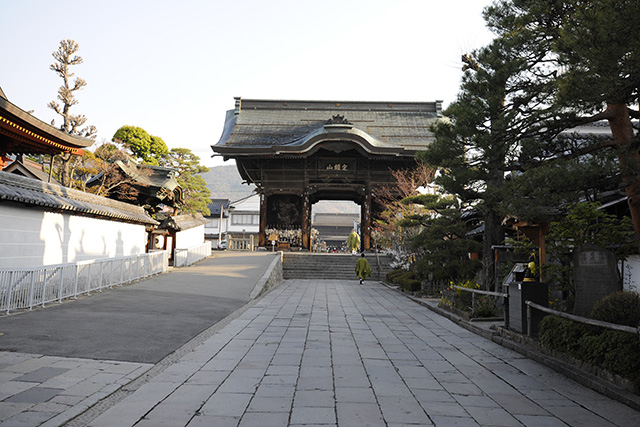 This street is lined with rows of Zenkoji's temple lodgings, creating a serene atmosphere. Some lodgings offer activities for visitors. The stone-paved street bears a sorrowful legend.